State track meet info: KSHSAA STATE TRACK AND FIELD FAN AND SCHOOL INFORMATION MAY 27 and 28, 2022 1) STATE FACILITY: (3301 E. 21st Street) • Cessna Stadium, Wichita State University • Wichita (WSU) Campus Resources:
www.wichita.edu/statetrack
2) TICKET PRICES: • $9.00 for Adults each day, $7.00 for students K-12 each day. • Tickets are available via GoFan Digital Ticketing. (See KSHSAA State Track and Field page for link) • There will be 3 ticket gates. Two gates are located southwest of Cessna Stadium, and one is located on the east side of the stadium. (SEE ONLINE MAP for locations) • Tickets are good for one day of competition. • Gates open at 6:45 am on Friday, and 7:00 am on Saturday for fans. • Gates open at 6:30 am on both days for school teams. 3) T-SHIRT AND APPAREL SALES: • Short Sleeve Navy T-Shirts:​​$19.00 for small – XL and $22.00 for XXL • Long Sleeve Navy T-Shirts:​​$23.00 for small – XL and $26.00 for XXL • Performance T-Shirts:​​​$25.00 for small – XL and $28.00 for XXL • Hooded Heather Navy Sweatshirts:​$33.00 for small – XL and $36.00 for XXL • Crewneck Navy Sweatshirts:​​$27.00 for small – XL • State Hats and Visors:​​​$19.00 ​​​ o XXXL short sleeve ($6 extra), long sleeve ($5 extra), hoodie ($4 extra) 4) PROGRAM SALES: • Commemorative programs can be purchased throughout the facility. The programs will be sold by our KSHSAA Member School KAY Programs for $3.00 each. 5) COOLERS: • School coolers are permitted thru the northeast athlete pass gate. No other coolers will be permitted. No exceptions. • Patrons are not permitted to bring coolers into the stadium. No outside food or drink. 6) BACKPACKS and LARGE TOTES • Only athletes and coaches are permitted with backpacks. Fans are not permitted to bring in backpacks and/or large totes. Diaper bags and purses are permitted.

In addition to the boys previously mentioned going to state. Judah Skipper place 3rd in the long jump and 4th in the triple jump. Also Dale Gillespie placed 3rd in the triple jump. Both boys will represent Pleasanton in their respective events.

The boys and girls track teams showed up to compete at the regional competition with the boys team earning enough points to walk away as regional champs. We had several state qualifiers: -Landry George placed 3rd in 100 meter. -Isaiah Bates, Judah Skipper, Tony Gillespie, and Dale Gillespie qualified for the 4x100 meter relay in 2nd place. Dale Gillespie took 1st place in the high jump. -Tony Gillespie took 1st and DJ Meik took 2nd in the pole vault. Isaiah Bates took 1st place in the 100 and 200 meter.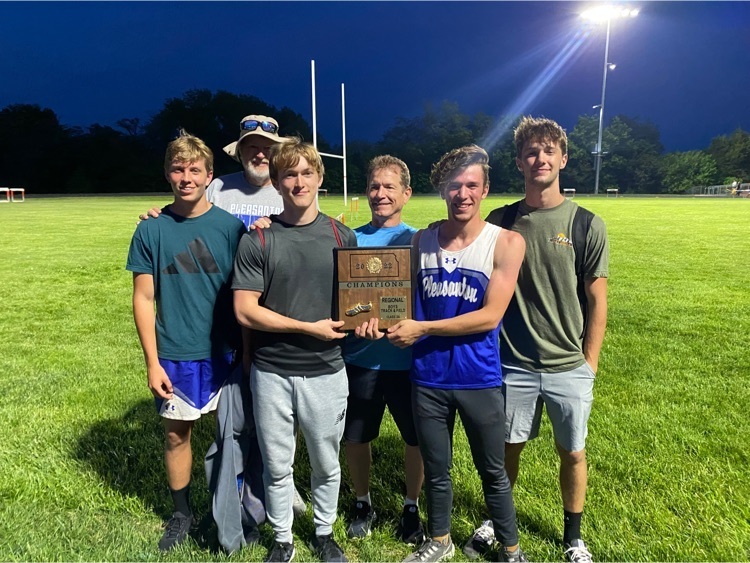 Your Pleasanton thinclads traveled to Lyndon today to take part in the Regional track meet. There were several outstanding performances throughout the day. The boys came away as Regional champs! I do not have all the results as they have only posted the running events as of now. If the field events get posted, I will add them to this post. Congrats to all!
https://ks.milesplit.com/meets/476402-2a-regional-18-lyndon-2022/results#.YocM-trMKM8

Your Blu-Jays played Jayhawk in the first round of regional baseball today. Unfortunately, they did not come out on top. The final score was 11-2. They end the season with a 10-9 record. Goody job, Blu-Jays!

FYI: Regarding HS baseball Regionals: Your Blu-Jays will play at 3:00 today at Trusler Sports Complex at Emporia State University. If they win, the semifinal/final games will be held on Wednesday of this week instead of Tuesday (as originally planned) due to impending weather that is supposed to move in tomorrow.

This is a friendly reminder that students will be released at 1PM today. Also, our talent show will begin at 8:30 AM. We look forward to seeing you there.

Your Pleasanton track teams competed in the TRL meet tonight. There were several outstanding performances. The boys won five events (high jump, long jump, pole vault, 100 m, and 200 m) and finished second as a team. The girls won two events (pole vault and 4x400 relay), and took third as a team. Final results are in the following link:
http://milesplit.live/meets/482465/team-scores


The TRL pole vault was contested tonight in Arma instead of Thursday in Uniontown as Uniontown has no pole vault facilities. You can't do any better than what your Blu-Jays pulled off. Landry George is your league champion with a vault of 7'6". On the boys side, DJ Meik takes top honors with a vault of 10', while Tony Gillespie comes away with second place at 9'6". Congrats!

Landry George is league champion in pole vault with a height of 7'6". DJ Meik is the league champion in pole vault with a height of 10'. Tony Gillespie took 2nd place with a height of 9"6'.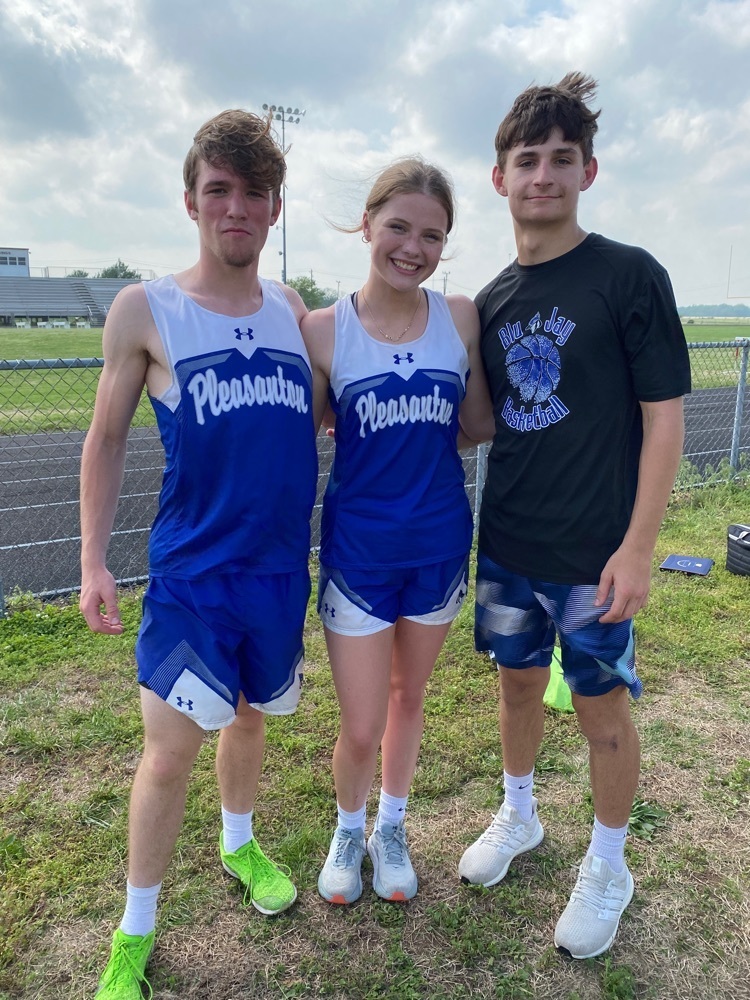 Greetings! The Academic Awards Ceremony will be held in the gym starting at 9 am. tomorrow, May 11th. All parents are welcome to attend. Graduation practice will follow. Baccalaureate will be held at the Assembly of God Church at 6:30 pm. Go Blu-Jays!


Your Blu-Jays fall to Uniontown by the score of 14-9 in their second game tonight. Their next game will be the first round of Regionals on Monday, May 16. Opponent and place of play will be determined later this week.

Your baseball Blu-Jays took the win over Uniontown in game one of their doubleheader by the score of 15-9. Their second game is just underway.

Good evening Pleasanton Elementary Families, There are several events at the elementary school this week that the community is invited to attend. Thursday @ 8:30 AM: Field Day at the stadium. Friday @ 8:30 AM: PES Talent Show in the PES Gym. Friday @ 7 PM: Kindergarten Graduation in the PHS Gym. *Also, Friday afternoon @ 1PM: Students will be released at 1PM for summer break. Busses will be running when students are released. We are looking forward to celebrate our students achievements, this week and hope to have you there.

HS baseball update: No HS baseball tonight at Yates Center. There will be no make-up date for this. Yates Center has two ballgames next week, and can't fit another game in before Regionals. Our next game will be Monday, Feb. 9, vs Uniontiwn at home.

The HS track meet for Thursday, May 5, has been rescheduled due to conditions and impending rain. It is now on Monday, May 9. However, our HS track team is already committed to go to a track meet in Iola that day. Therefore, the track team will not be attending the Humboldt meet. They will just be attending the Iola meet on Monday.
Just a reminder that tomorrow, May 4th is an EARLY Release Day! Students will be released at 2:45 pm.