MESSAGE TO FAMILIES Today, March 17, 2020 Governor Laura Kelly announced all school facilities will be closed for the remainder of the 2019-2020 school year. This will place tremendous hardship on our families and staff, and impact the social and emotional well-being of our students. We have been working on contingency plans since mid-March, including how we can meet the ongoing learning needs of our students as well as provide breakfast and lunch for our students. The administration will be planning meetings for individual staff members in small groups (Less than 10) to go over tentative plans and get the ball rolling on instruction. These meetings with staff will start Monday, March 23rd and will ramp up to resume instruction by the 30th, if not sooner. Realizing that not all families have access to internet connections, KSDE has provided schools with 3 different instructional delivery methods. We are able to instruct via worksheets, small groups, as well as online computer based. At this point I think it would be safe to assume that your student will see a combination of the three teaching delivery methods being utilized. As you know, our teachers are all trained to teach face to face. This will be a challenge for everyone involved, however, I can promise you that we will do the very best job we can to assure that students are meeting curriculum standards. You should also know that the instruction will evolve throughout the next few weeks that we have remaining. In the end, it is our desire to do all that we can to keep students and staff safe while following local, state and national guidelines/protocols. In addition to instruction, I am sure everyone is also wondering what will happen to spring activities. The Kansas State High School Activities Association has cancelled all spring activities. At this point in time everything on the calendar is considered cancelled with the exception of graduation. It is our desire to schedule graduation once the "all clear" has been given. At this point though all activities etc. are cancelled until June 1. No plans will be made for anything after June 1st until we are given the green light to do so. Our staff and board of education will also be working on other critical issues, such as what this means for our seniors, how this will affect the next school year, and what impact this will have on our employees. We will provide updates on these issues as soon as the information is available. We are committed to working together as a community to support one another throughout these unprecedented times, and communication will remain a top priority. As a reminder, this school closure is in response to the current public health crisis. The focus should remain on preventing the spread the coronavirus, or COVID-19 as it is also referred to.
Greetings!!! Parent Teacher Conferences for Pleasanton schools are today from 4-7 pm. and Thursday 4-8 pm. We look forward to seeing you there. Spring Break will Be Friday, March 13th -March 22nd. Thank You

Three Rivers League Basketball Team Selections. Congratulations coaches and players! GIRLS 1st Team Sophomore Danielle Howard – Uniontown (U) Senior Katie Coomes – St. Paul (U) Junior Railey Robertson – Southeast-Cherokee Senior Emily Hutcherson – St. Paul Senior Madelynn Collins – Yates Center Junior Emma Sabine – Pleasanton Senior Bailey Griffith – Marmaton Valley Junior Karleigh Schoenberger – Uniontown 2nd Team Junior Brali Conard – Chetopa Senior Taylor Wiatrak – St. Paul Senior Rylee Beckmon – Colony-Crest Senior Samantha Blundell – Chetopa Senior Shanler McNickle – Oswego Senior Kate Dawson – Jayhawk-Linn Senior Torrie Albertson – Chetopa Sophomore Aly Ard – Marmaton Valley 3rd Team Senior Haley Claffey – Northeast-Arma Senior Abby Long – Oswego Junior Rachel Fox – Northeast-Arma Senior Breleigh Harris – Uniontown Sophomore Claire Bradshaw – St. Paul Sophomore Mariah Stackhouse – Altoona-Midway Junior Kaylee Becker – Marmaton Valley Sophomore Elise Doherty – St. Paul BOYS 1st Team Senior Adam Albertinie – Saint Paul Junior Jake Harvey – Uniontown Senior Matt Cashero- Northeast-Arma Senior Brance Ware – Jayhawk-Linn Senior Chandler Bradshaw – Saint Paul Senior Luke George – Uniontown Junior Isaac Elliott – Oswego Senior Zach Beckmon – Colony-Crest 2nd Team Senior Reece Solander – Yates Center Senior Easton Dent – Saint Paul Senior Isaac Jurkovic – Northeast-Arma Junior Jace Coltrane – Southeast-Cherokee Senior Kaleb Lemmons – Saint Paul Senior Hayden Smith – Saint Paul Freshman Dale Gillespie – Pleasanton Sophomore Jackson Ashmore – Altoona-Midway Honorable Mention Senior Chase Bradshaw – Saint Paul Senior Jazper McCaauley – Northeast-Arma Sophomore Sean Hurst – Yates Center Senior Dayton Marsh -Altoona-Midway Freshman Cade Burdette – Southeast-Cherokee Senior Cole Cunninghame – Pleasanton Junior Kobey Miller – Colony-Crest Junior Tyson Hermreck – Colony-Crest Senior Jace Wilson – Oswego

You are not too late to join us for dinner tonight and to help support Caleb Secrest's fundraiser for the Linn County Childrens Coalition. Dinner will be served until 7:00 PM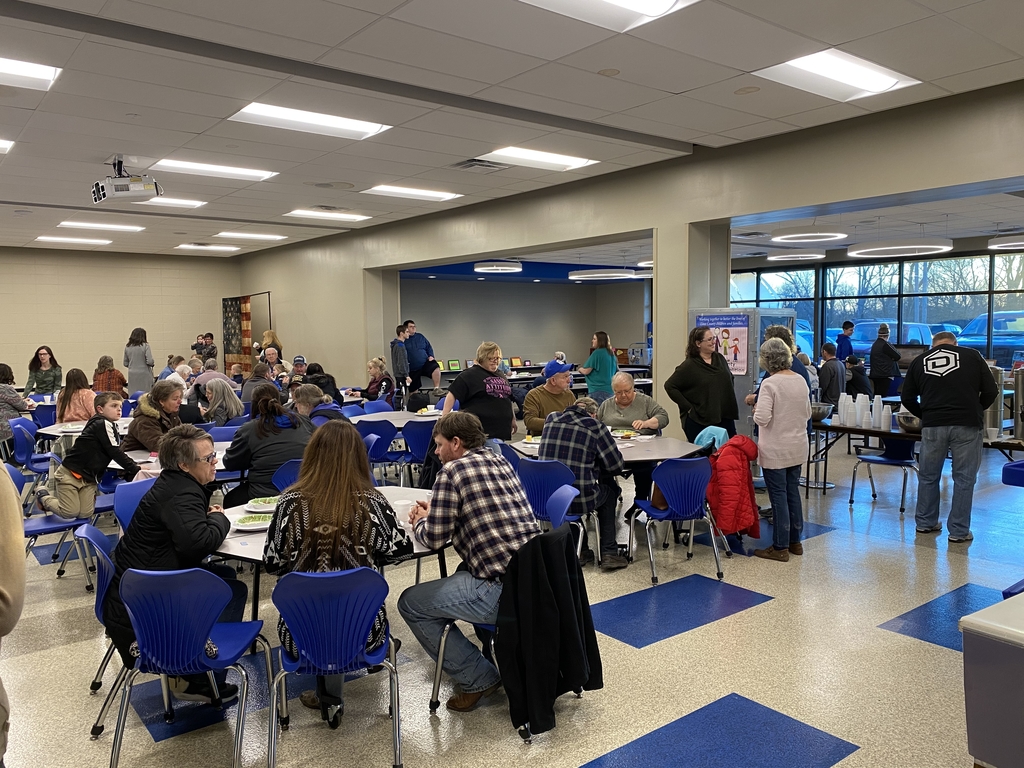 Good morning, The spelling bee will be rescheduled to February 26th at the same time in the elementary school.

School is cancelled today February 5th. We are currently in a winter weather warning and will already be short staff and students due to the parade. Please be careful today.

Staff and students. Classes will start at 10 am today. Doors will open at 9:30 with breakfast being served at this time. Busses will run 2 hours later than normal. Staff arrival time will be 9:30.

With the threat of bad weather coming in tomorrow night we are going to move up the start times for our home basketball games. Our varsity girls game will begin at 4:30 PM followed by varsity boys. The JV boys will start in the south gym at 4:30 followed by the JV girls.

The brackets are updated for Saturday. First games will start at 1 PM.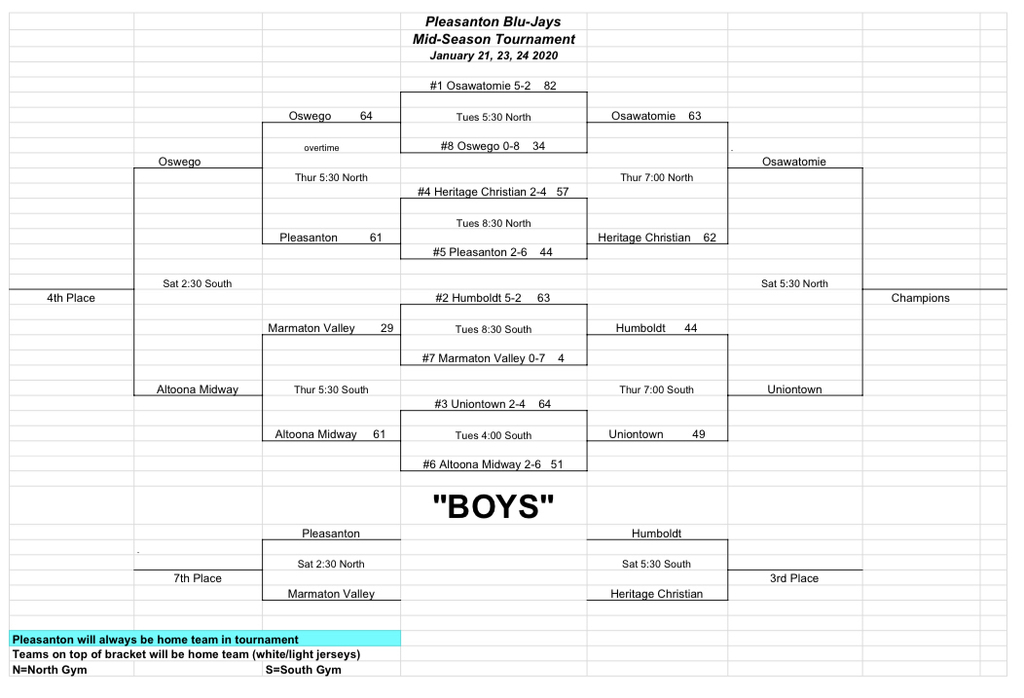 Good morning, school will not be in session Friday January 24th. The Mid-season tournament will resume on Saturday.

The missed basketball game with Moran will be made up on February 17th. Court-warming will be held on January 31st in conjunction with business appreciation night.

Good evening, due to forecasted weather conditions Friday January 17th school will not be in session.

Good morning parents, just a reminder that today is early release. Have a great day!

Good morning, due to pending weather Friday January 10th we will be starting our basketball games at 4 PM with the JV boys in south gym and varsity girls in north gym.

Due to the fact that Chetopa does not have enough players the girls team will not play JV. The boys will play half running clock followed by the varsity girl's and then boys. All games will be in the north gym starting at 5 PM January 7th.

Due to current road conditions school will not be in session Tuesday December 17th. Stay safe everyone!

Due to current road conditions and forecast of more bad weather to come, school will not be in session Monday December 16th.

Help us welcome the newest member to the Blu-Jay family!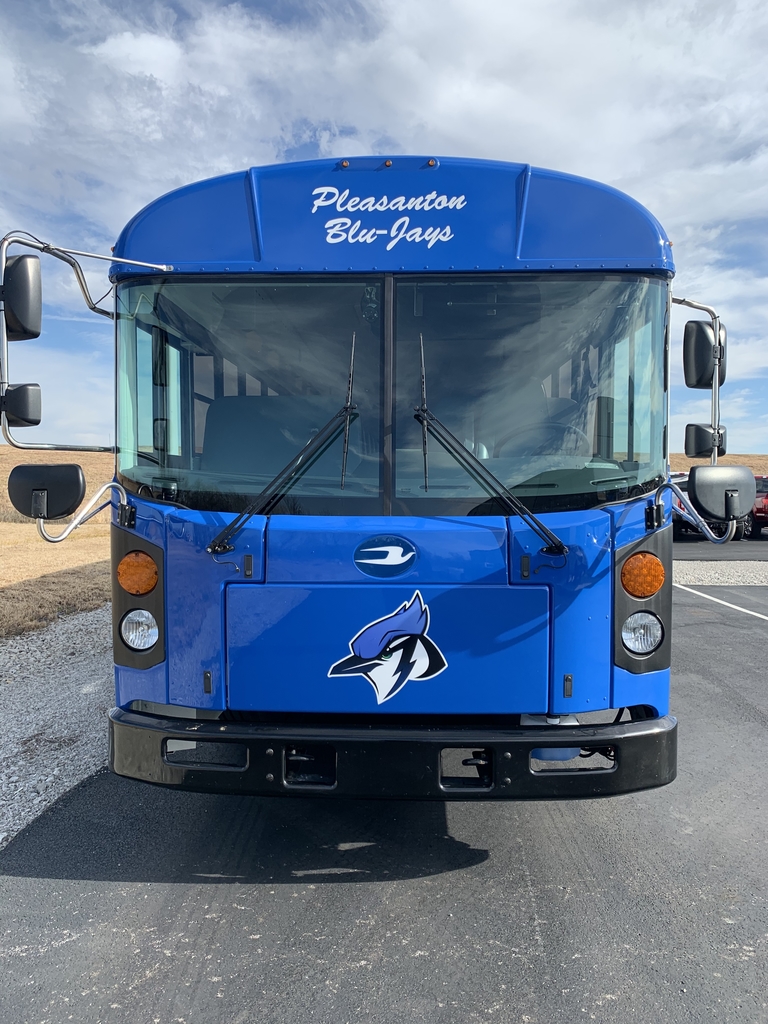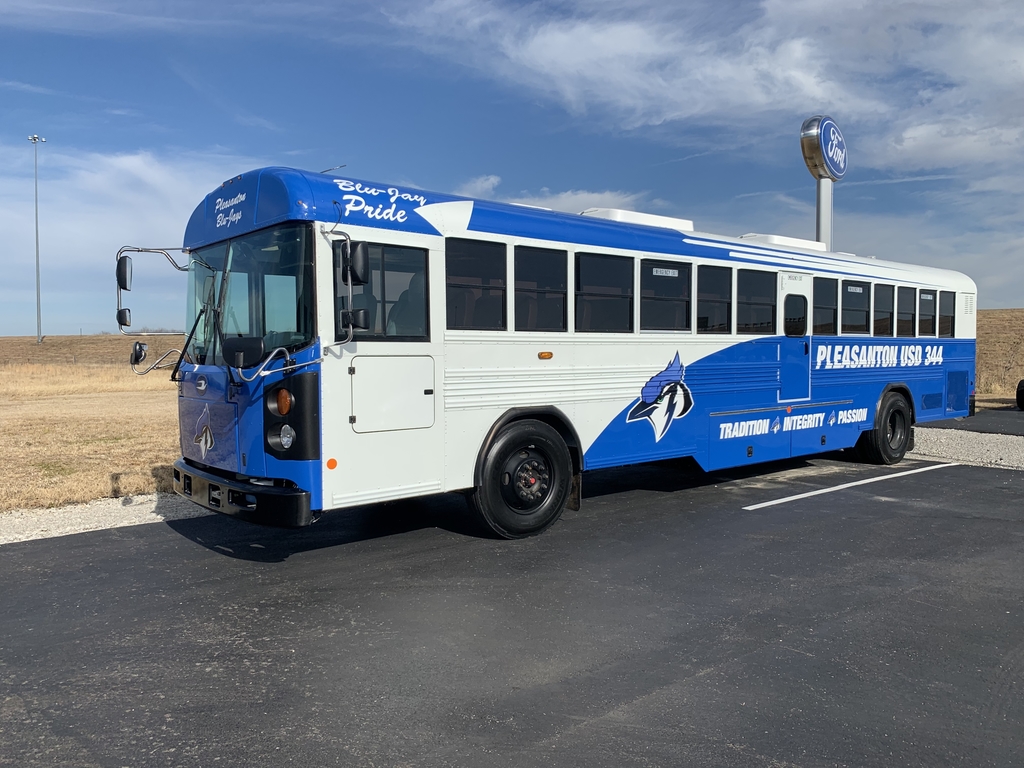 Congratulations to our KU Honor Scholars Cole Cunningham, Kasen McKee, and Colleen Sweat. Very proud of their accomplishments!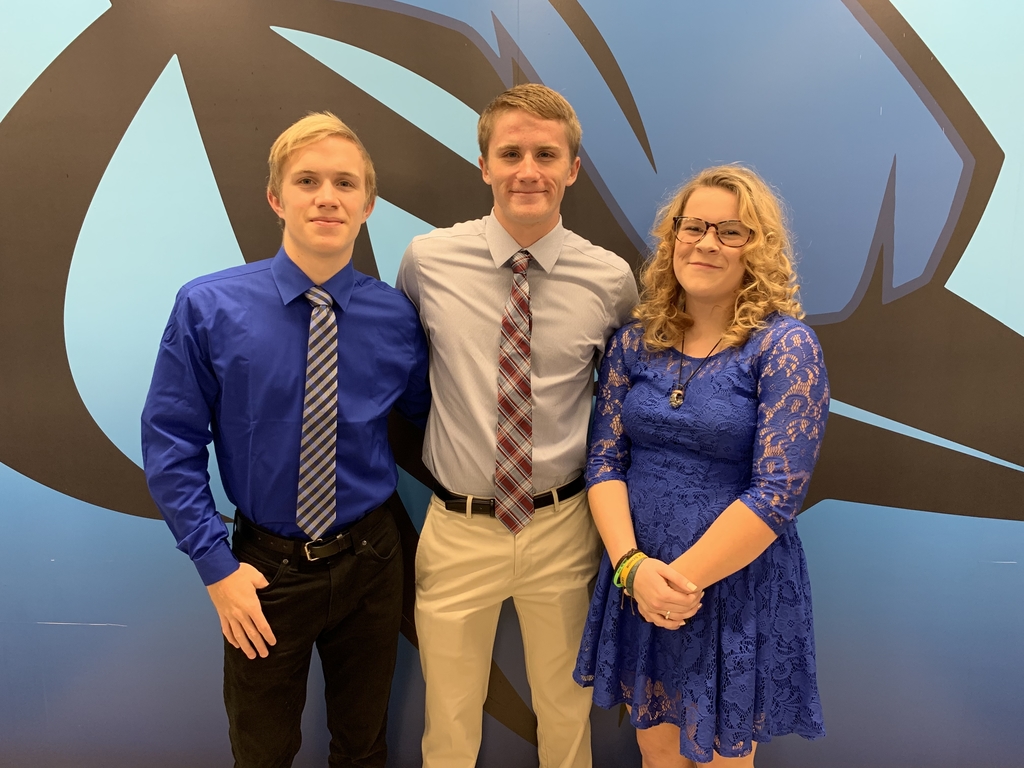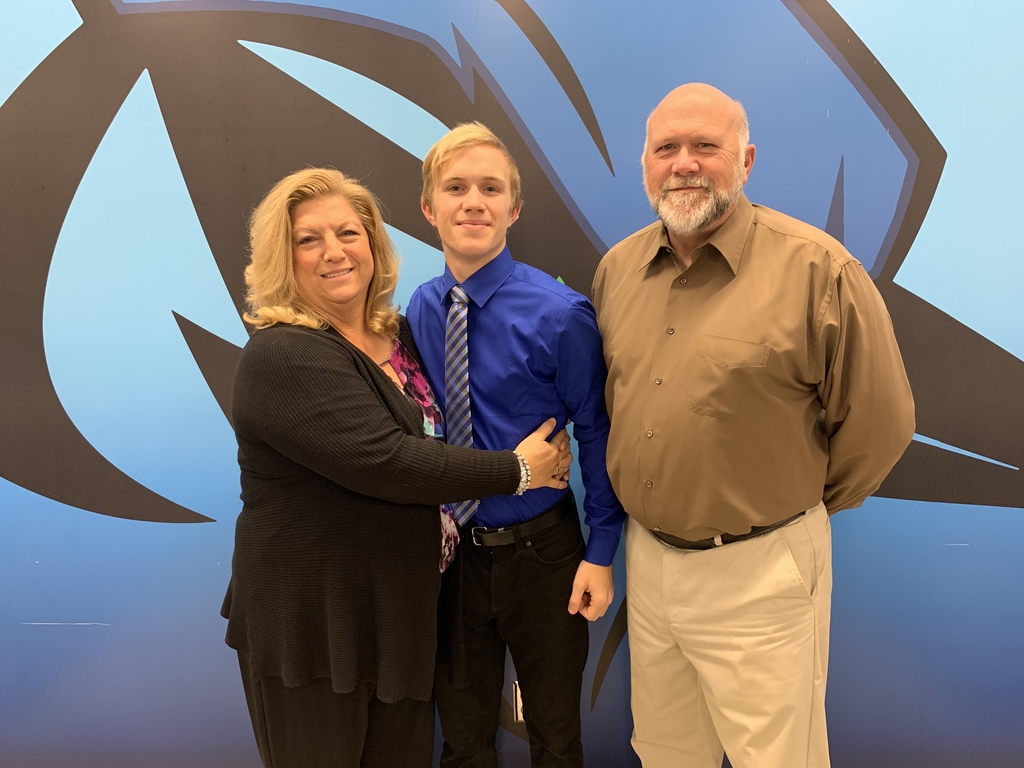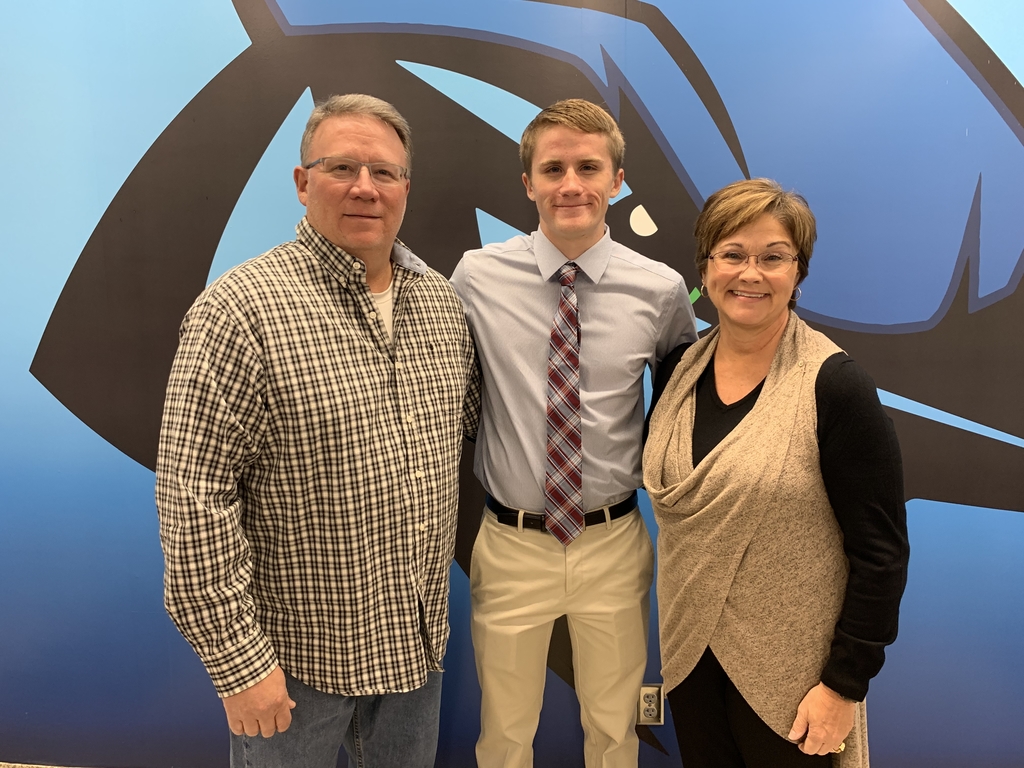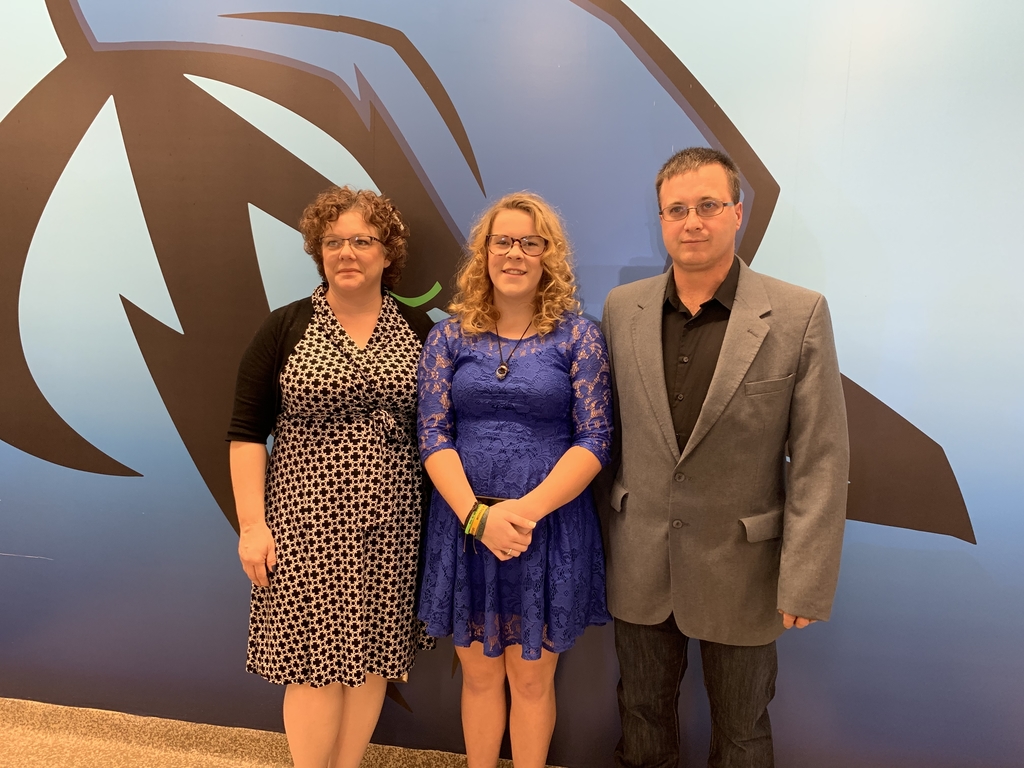 Good morning everyone! Just a reminder that today we will have early release. Have a great day!