Basketball Parents and Fans Due to a quarantine of the Altoona boys basketball team we will not play the boys game tomorrow night. As on now the girls game is still on, if we receive any additional updates we will post them as soon as possible. Thank you!!

Due to weather conditions our High School Basketball game at Yates Center has been rescheduled for Monday, February 22. Stay warm and safe!

HS Basketball Parents: If you need to sign up or make a change to your athlete's parent/guardian list for games, please contact the high school office. We will need to submit these lists before our Tuesday night and Friday night games next week. Please remember that the list may only include 2 parents/guardians per participating and there cannot be any substitutions. 2. There was an error on the district website on the games for 2/18 and 2/19. These have been updated on the calendar. 2/18 - Home Game vs Bronaugh 2/19 - Away Game @ SE Cherokee We added a game on 2/23 @ NE Arma

Tomorrow (Wednesday, Jan 6) is CF Hat day! Bring your $$ and a hat if you want to participate!

Basketball Fans and Parents: The game scheduled for Friday night has been postponed to Monday, January 25. So far we are still on track to play next week at Jayhawk and Yates Center.

High School Basketball Parents Tonight's game against Prairie View has been changed to be Varsity Boys only event. The Prairie View girl's basketball team has been quarantined and they are unable to attend. Doors will open at 6:15 for the parents or guardians of the varsity boys basketball team and cheerleaders. Per KSHSAA regulations, please remember that masks are required for the duration of the event, temperatures will be checked in the door. Additionally please remember to socially distance while in the stands. Thank you!

HS/JH Basketball News! Yesterday KSHSAA modified their decision regarding the number of spectators at JH and HS basketball games. The new decision from KSHSAA is that 2 parents/guardians per participating family will be permitted to attend the events. As of now this rule will be in place until January 28, 2021. Mr. Shaw will be contacting the families of participating high school athletes (basketball/cheer) today to answer questions and gather names of the parents/guardians for this week's events. This will help us be prepared for Thursday's game against Prairie View and the Friday game at Jayhawk. We will contact junior high parents later on in the week. Masks are now required to be worn at and for the duration of all indoor KSHSAA events, we will have additional masks on hand if you need one. Temperatures will be checked at the door. Attending parents/guardians will need to sit in family clusters to allow for social distancing. Admission to the event will be $4

Congratulations to our KU Honor Scholars! Jyllian Carpenter, Reagan Huggins, Emma Sabine, and Caleb Secrest.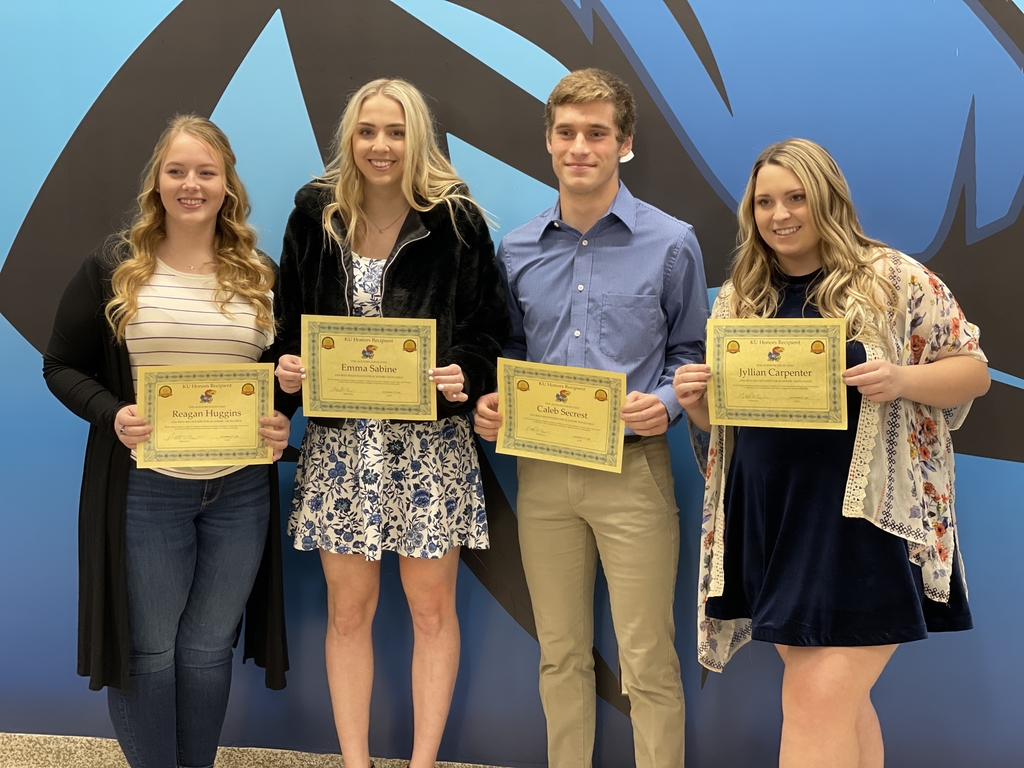 Good evening Parents and students. The board voted tonight to have students back face to face beginning Tuesday December 1st. See you in the morning!

Good morning parents! Just a reminder that today is early release. In addition the junior and senior high staff will be available to assist with homework etc. until 3:40 today.
Greetings USD 344 Parents and Guardians. The Assembly of God -Food Pantry will be giving away Food Bags of Pasta Dinner Makings starting at 3:15 today in front of the school! There are enough bags for about 50-60 families!!! Thanks-- Have a great Week-end!

Good morning parents, Last night the school board took action based on current Covid conditions to move grades 7-12 to remote learning temporarily starting on Monday November 16th and continuing through December 1st. The board will have a special meeting to re-evaluate conditions on November 30th. We ask at this time for our parents to team with us to assist with slowing down the transmission of Covid by reminding students to wash hands frequently, social distance, mask when in public, and not go in public spaces unnecessarily. At this time sports practices and activities will still be happening.

Good evening parents, School will not be in session Friday November 5th as the teachers have an inservice day scheduled. Have a great weekend!

Substate Volleyball is happening now!
Greetings Parents! I would like to invite you to our remote parent teachers conferences that will take place on October 21st and 22nd. Please click here:
https://5il.co/m443
register for available time slots with your son or daughter's teachers. Thank you in advance! Go Blu-Jays!
Parent/Teacher Conferences are going Virtual! Click on the flyer to schedule 10-minute conference times. More details to come from your child's Seminar teacher.
https://5il.co/m443

Parents, we have received notice of two positive Covid cases in our school district. The parents of affected students have been notified about remote instruction. The Linn County Health Department is also notifying all individuals who meet the definition of close contact and they will instruct those individuals of their required next steps. Thank-you.

Good evening Parents. Just a reminder that classes will be meeting at school on Wednesday October 7th as we completed our last remote day last week. In addition October 7th is also an early release day.

The volleyball match scheduled for today at 4:30 has been canceled. Sorry for the late notice.

Varsity Football - 10/9 @ Northern Heights Northern Heights has a spectator size limit for their events. We are allowed to bring 4 spectators per athlete (football and cheer) to this event and 2 spectators per coach. Today players and cheerleaders received a sign-up sheet to add their four guest to the pass list, please return them tomorrow so we can send our list to NH. Due to the attendance limitations for this event we will live stream the game on Facebook. Thank you for your cooperation in this matter and your timely response. Go Blu-Jays!